Voilà, le deuxième patron de Collection Québec est maintenant disponible!
Pour cette jupe, je me suis inspiré des fleurs qu'on trouve dans les champs l'été, comme les trèfles, les épilobes, les épervières, les achillées, et aussi d'une photographie prise par
William James Topley
.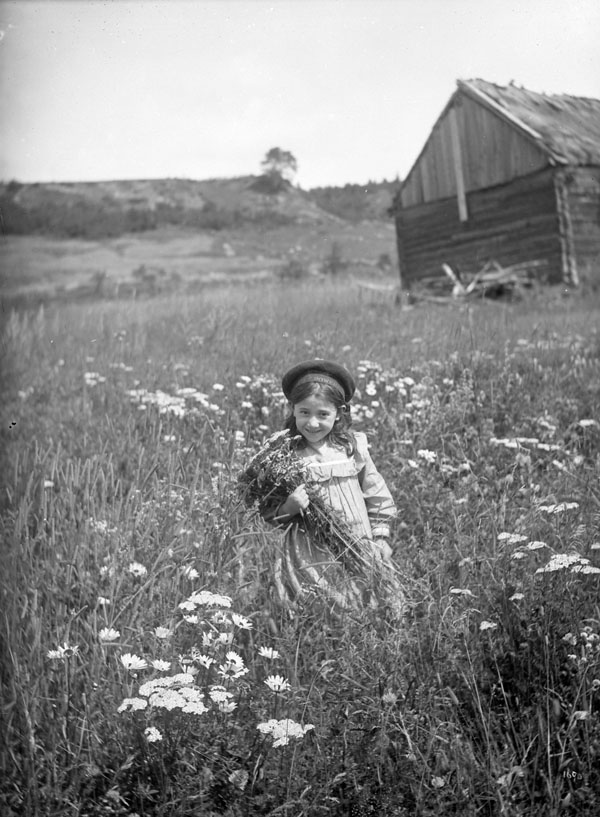 The second pattern of Collection Québec is now available!
For this skirt, I was inspired by the flowers we can find in the fields, in summer, like trefoil, fireweed, hawkweed and yarrow. I was also inspired by this picture of a little girl taken by
William James Topley
.
Dans la ceinture de la jupe se trouve une bande élastique, qui permet à la jupe de tenir parfaitement en place, mais puisque l'élastique ne touche pas la peau, ça reste confortable.
An elastic band is hidden inside the belt. So you have a perfect fit around the waist, and it's still confortable because the elastic doesn't touch your skin.
Le travail de couleur est séparé en trois parties. De cette façon, j'ai pu distribuer les augmentations de façon à offrir 6 tailles:
tp, p, m, g, tg, ttg.
Tour de taille / Waist circumference:
21,4 (25,7; 30; 34,3; 38,6; 42,9)''
54,4 (65,3; 76,2; 87,1; 98; 108,9) cm
The colorwork is divided in 3 parts. This way, I was able to distribute increases equallly for 6 sizes:
xs, s, m, l, xl, xxl.
Laine / yarn:
Knit Picks palette
7 couleurs / colors:
C1: Edamame (Light Green/Vert pâle)
1 skein
C2: Grass (Dark Green/Vert foncé)
1 (1, 1, 1, 2, 2) skeins
C3: Semolina (Yellow/Jaune)
1 (1, 1, 2, 2, 2) skeins
C4: White (Blanc)
1 skein
C5: Lady slipper (Pink/Rose)
1 skein
C6: Serrano (Red/Rouge)
1 skein
C7: Mulberry (Purple/Mauve)
1 skein
J'ai aussi créé une grille indiquant environ combien vous aurez besoin de laine, en gramme, pour chaque taille et chaque couleur. Elle vous sera utile si vous utilisez des restants de laine. Je vous conseille tout de même d'avoir un petit peu plus de laine qu'indiqué, au cas ou.
I also created a chart showing approximately how much yarn you will need, in grams, for each size and color. It could be useful if you use yarn from your stash. Make sure to have a little more yarn than asked, just in case!
Lorsque vous achetez le patron, vous le recevrez en français et en anglais.
When you buy this pattern you receive it in english and in french.
Prairie skirt - 4,50$ CAD